The critical case – there is only bread, cheese and onion in the kitchen. Will it fill us? Of course! You will even want a repeat! Also, you will find here a simple tip how to chop an onion to avoid tears.
Let's leave out the introduction. We just need our ingredients, fry it and it is ready!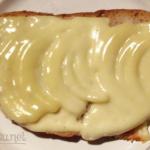 Then we eat it and if it is tasty for you – share the recipe with your friends. If not, well… Share it with your enemies! We should not eat it before kisses, unless our partner likes a smell of an onion from our mouth. I am not a big fan of onion, but I love this food since the very first time I ate it.
Ingredients:
white bread
onion
cheese slices

fat for frying- especially butter
optionally: basil or oregano

optionally: ketchup
optionally, hardcore version: garlic sauce
Preparation:
Preparation time: less than 5 minutes
Frying time: about 5 minutes
Put sliced or chopped onion on the slice of bread – just one layer will be enough – it is shown on the photo below. A toast tastes good when the onion is sliced, but it is uncomfortable to eat it. How to chop or slice an onion and avoid tears? I do not want you to cry, of course! Check the tip below, please. You can melt the fat on the frying pan, so it will be melted when toast will be prepared for frying. Traditional way as fat, use a butter. I recommend to put a bit of herbs on the onion – you can use dried as well. I am using just a dried basil. Put on the bread with onion a slice of cheese. Better do not add too much cheese, because it will melt down the frying pan and it will burn on it. Fry it with the pan lid on for about 5 minutes – just wait until cheese is melted. When it is ready we may put ketchup on it or in hardcore version, for people who want to kill using just their smell – use garlic sauce! 😉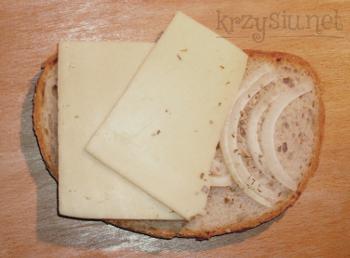 How to properly chop or slice an onion?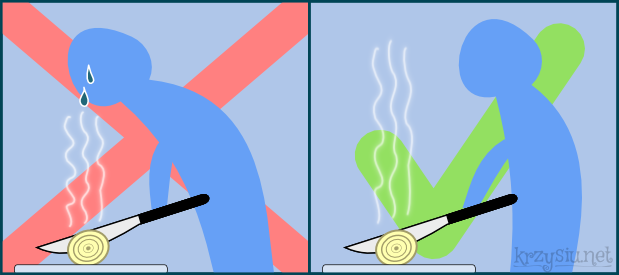 It is good to remember about this simple tip: from the very beginning do not keep your head directly above onion – I have shown it on the picture. Remember! When your eyes are already irritated, it is too late to run.
That's all! As usually: enjoy your meal!