Ice tea is a very good drink to quench your thirst in hot days. Instead pay a lot for commercial brands, we will do our tasty tea made from earl grey, mint, and lemon.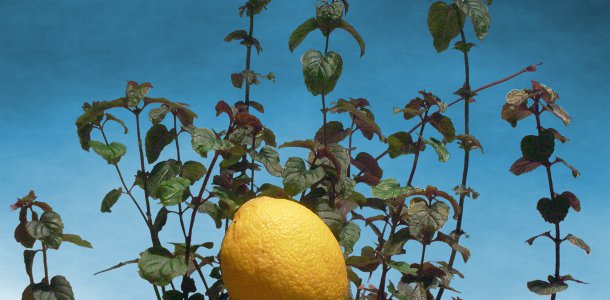 Ingredients for 1,5 liters of drink:
1,5 liters is circa 50 oz or 6 glasses.
earl grey tea – 4 teabags
lemon – 3 slices
mint – circa. 10-15 leaves of a fresh mint; if not available – 1-2 teabags of dried mint
optionally sugar – the lesser, the better
Preparation:
We have to prepare earl grey tea with lemon and mint. Pour 1,5 liters of boiling water into a jug, a kettle – whatever you want. Steep it for 10 minutes. Tea should not be strong – four teabags for 1,5 liters of water will be enough. Recommended above rather long steeping makes tea lighter for body as well. After then minutes take out teabags, but leave lemon and mint.
Mint should be fresh. Leaves can be crushed by knife or teared – this way aroma will get out easier. My favorite variety is Granada (on the photo), which has subtle taste. It has citrus aroma – that is why it is called "orange mint". Depending on variety add leaves to feel the aroma of mint, but it have to be in background. You can buy fresh mint in grocery stores, but it is usually a strong kind. In this case 15-20 leaves will be fine. If you have not fresh leaves, you can use dried mint, but results are not as good as with fresh one. You will need 1-2 teabags of such mint.
Add one slice of lemon per 0,5 liter of drink, so for 1,5 liters you will need 3 slices.
If you are adding sugar to tea, add smaller quantity than usually. It is supposed to be a drink for hot days and keep in mind that more sugar means worse quenching of thirst, even if it seems to work just fine.
After about 30 minutes pour it through strainer and put it into the refrigerator.
This way we have made a tasty ice tea! It is much cheaper, healthier and tastier than drink from the shop. Main advantage is the thing which is the main point of ice tea: it is quenching your thirst much better than commercial brands.
Enjoy your drink!